Business Deposit & Operating Accounts
Financial products for the success of your business.
As a local bank, Pioneer understands the unique needs of our business community. We've developed a comprehensive offering of commercial and small business accounts designed to grow with your business, and our dedicated team of business banking experts are always available to offer guidance and support.
Pioneer has built our reputation on outstanding relationships with each of our clients, and we understand that your success is our success. When you choose Pioneer, you're not just getting a bank account; you're building a relationship with a trusted, local organization that is committed to helping you prosper.
Business Basic Checking features:
$100 minimum opening deposit required
$10 monthly fee

First 2 statement cycles are free if the service charge waiver limits are not met
To waive the monthly fee, maintain an average monthly Business Basic Checking relationship balance of $2,500, or maintain a business loan1 of $25,000 or more

100 transaction limit per month

$0.25/transaction over transaction limit
You must be registered to use Pioneer Online Banking & Bill Pay.
1 -If using a business line of credit (excludes business checking line of credit) to waive fee, the current outstanding balance will be used to calculate total.

Business Analyzed Checking
Business Analyzed Checking features:
$5 minimum opening deposit required
$20 monthly fee

First 2 statement cycles are free

No monthly transaction limit
Additional Perks
Up to 3 free Signature Banking accounts ($21/month value)
No annual fee on Business Checking Line of Credit (up to $150 value)
You must be registered to use Pioneer Online Banking & Bill Pay.
Business Premier Checking
A relationship that rewards you.
Business Premier clients enjoy exclusive access to enhanced benefits and rewards, as well as the professional services of a dedicated Premier Relationship Manager. Unlock an enhanced level of service that provides your business with rewards for your relationship, including fee waivers, enhanced service offerings, and more. Visit our Business Premier Banking page to learn more.
Earn interest and maintain easy access to balances.
Earn a high yield and maximize your return on excess balances with a Business Money Market account from Pioneer. Business Money Market accounts let you maintain easy access to funds and earn interest, too.
Pioneer's Business Money Market account features:
Competitive interest rates
Low minimum opening requirements
No service charge when you maintain a minimum balance
The deposit vehicle with flexible terms and interest options.
Find the CD that's right for your business. Pioneer offers a variety of terms and interest rate options to fit your needs. Through the Certificate of Deposit Account Registry Service (CDARS®), funds are FDIC-insured up to $50,000,000. Business CDs offer the flexibility to manage your money your way.
The deposit account option that earns money while you sleep.
Sweep accounts are a cash management tool that helps businesses take advantage of higher interest rates to earn more with their savings. Here's how it works: Funds above a target balance are swept into an overnight repository where the balance earns rates typically above normal deposit accounts. This product is intended to work in conjunction with large balance accounts.
Pioneer Business Debit Cards
Mastercard® Business Debit Card
Make business purchases directly from your account.
MasterCard® Business Card™, Pioneer's business debit card, offers convenient access to your balance without writing checks or paying unnecessary interest rates from credit purchases. Manage your activity with Pioneer Online Banking for 24/7 access to your account and simple tracking and reporting. Get the first card free, and subsequent cards for your employees for a low fee. Debit cards offer convenience and savings for your business.
MasterCard® Business Card™ features:
No annual fee
24/7 access to view card transactions with Pioneer Online Banking
Lost or Stolen Card: 800.500.1044
Prepaid for business - Take control over employee spending.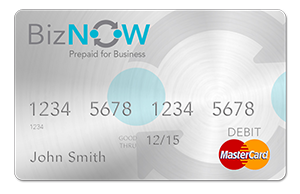 Manage your company budget, funding outflows, and expense tracking from a single app.
Payment Card – Mobile Application – Cash Flow Management
BizNOW™ is a prepaid solution for business customers. It is a full end-to-end payments and expense management solution that brings cutting edge technology to help businesses compete in today's market.
BizNOW helps drive your business forward
Regulatory obstacles make it difficult for businesses to issue credit or debit cards to their employees. As a result, one-third of corporate expenditures are handled by employees sharing cards, using personal cards, and filing expense reports or exchanging receipts for cash. BizNOW is a mobile-based, real-time expense management solution that diminishes these expensive, inefficient, and risky practices while helping businesses better manage cash flow and simplify the expense reporting process. As a standalone product, or used as a complement to a business credit program, BizNOW fills the gaps and drives your business forward. With BizNOW, employees benefit from a simpler process that's more secure and business owners realize these important advantages:
Greater efficiency and flexibility: Mobile approval and dynamic funds movement. Integration with accounting software.
Account simplicity: Dashboard provides full reporting and administrative capabilities. Receive real-time funding requests and spend notifications, uploaded receipts, purchase descriptions, and expense categorization.
Enhanced security: Elimination of card-sharing among employees. Ability to instantly suspend a card and reactivate when needed.
Tighter control over cash flow and budgeting: Real-time tracking and visibility.
Cost savings and efficiency: Time-consuming expense report processing and costly check handling are nearly eliminated.