ITM vs. ATM: What's The Difference?
You can video chat with your doctor, your professors… even your boss! Why not your teller?
With Pioneer's ITMs, you can see a teller on the machine and complete nearly all the same transactions as if you were in a branch. While they look a lot like our classic ATMs, here are some key differences:
Touch to Start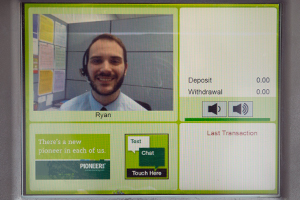 With traditional ATMs, the first step is to enter your credit or debit card. To begin a transac
tion and
 speak with a remote teller, simply touch the screen to be connected. From there, you can continue with your banking activities.

Break Big Bills
ATMs are usually only able to dispense bills in denominations of $20. Whether you need smaller bills for your business or just need change, you can bring your cash to any of our ITMs and exchange them for smaller bills. Similarly, you're able to withdraw amounts from your account in many different common denominations.
Make Loan Payments
When you have a loan with Pioneer, you can skip the teller and make a payment at any ITM. Additionally, you can talk to a teller and ask any questions you may have about your loan or loan payment.
Talk to a Local Customer Care Representative
When's the last time you talked to your ATM, and it talked back? Talking to a representative through any of our ITMs and receive the same great service as you'd receive in person. Whether you're in your car at our drive-through ITM or in one of our lobbies, our ITM representatives can help you through nearly all the same functions as the tellers in our branch.
Whether you're trying to keep a safe distance and limit in-person contact or skip the wait in our lobby, stop by one of our
13 ITMs
and experience personal banking, virtually!
The material provided on this website is intended for informational purposes only. Links to other web sites are provided for reference and do not constitute a referral or endorsement by Pioneer or its affiliates. Please note that such material is not updated regularly and that some of the information may not be current. It is recommended that you consult with a financial professional for assistance regarding the information contained herein.