Go Touch-Free With Your Banking
Washing your hands and sanitizing frequently are top of mind these days, and everyone is thinking twice about the surfaces they touch. Consider some of the surfaces you use for transactions or banking, including your debit or credit card, pin pads, or even touch screens. At Pioneer, we have a few options to help you reduce your contact with frequently used surfaces and make your banking easier.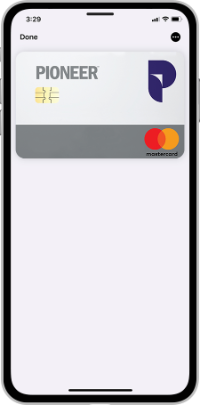 Mobile Wallet
A mobile wallet is pretty much exactly what it sounds like – a "wallet" that lives on your mobile device instead of in your back pocket or purse. Mobile wallets can manage all of your credit and debit cards, loyalty club memberships, and reward cards. It's a seamless way to pay for things on your phone, in-app purchases, paying friends, or without inserting your card when checking out. Simply load your card into your phone and you can start using it wherever it's accepted.
People Pay
Need to send money to your babysitter, dog walker, or friend who picked up dinner? There's no need to run to the ATM, simply use People Pay to send money directly to their bank account, through a check, PayPal, or even email or text.
Bill Pay
Do you have some bills waiting to be paid? Instead of reaching for your checkbook and stamps, log in to Online Banking or Mobile Banking and pay them through Bill Pay. It's fast and simple, plus you'll save money on postage.
Mobile Check Deposit
Deposit checks without leaving the comfort of your home. Using Mobile Check Deposit on Pioneer's Mobile App makes depositing money fast and easy. Simply endorse the check, "for mobile deposit only," capture images of both the front and back, enter the amount, and submit it through the Mobile App. It's that easy.
The material provided on this website is intended for informational purposes only. Links to other web sites are provided for reference and do not constitute a referral or endorsement by Pioneer or its affiliates. Please note that such material is not updated regularly and that some of the information may not be current. It is recommended that you consult with a financial professional for assistance regarding the information contained herein.