Why Cybersecurity Should Be a Top Priority For Your Business
Cybersecurity
 is the practice of protecting systems, networks, and programs from digital attacks. These cyberattacks are usually aimed at accessing, changing, or destroying sensitive information; extorting money from users; or interrupting normal business processes.
A data breach can damage more than just your small-business computer system – it also can damage your reputation and put your customers and/or employees at risk. That's why cyber insurance can be a smart precaution for any size business.
Cyber insurance generally covers your business' liability for a data breach involving sensitive customer information, such as Social Security numbers, credit card numbers, account numbers, driver's license numbers and health records.
For tips on how you can protect yourself and your business from malicious activity,
read this document from the FTC
, and be sure to check the Fraud Prevention and Security section of our Financial Education Center 
Interested in learning more about cyber liability insurance? Speak to a Pioneer insurance representative by calling 518.730.3200.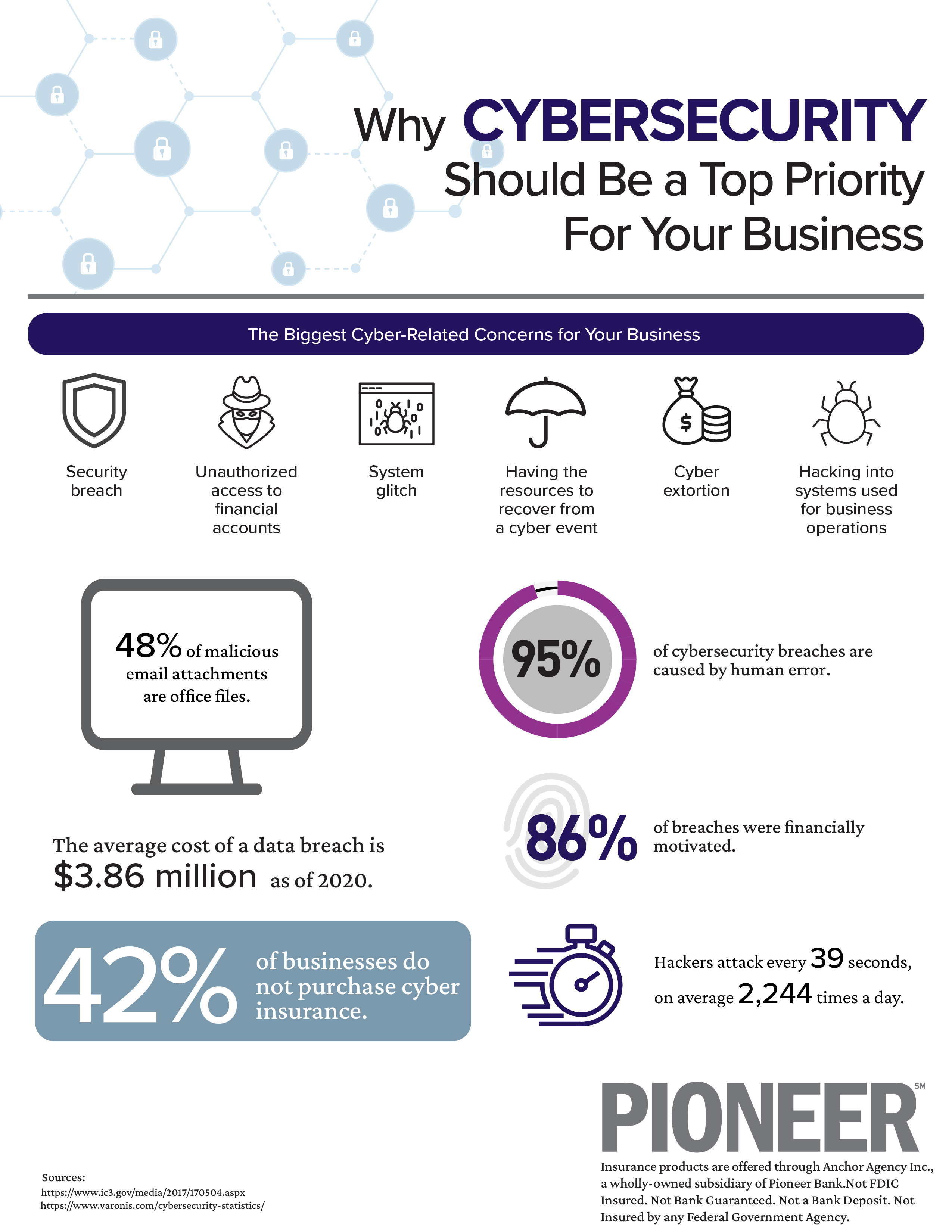 Insurance products are offered through Anchor Agency Inc., a wholly-owned subsidiary of Pioneer Bank.

| | | | | |
| --- | --- | --- | --- | --- |
| Not FDIC Insured. | Not Bank Guaranteed. | Not a Bank Deposit. | Not Insured by any Government Agency. | May Go Down in Value. |
The material provided on this website is intended for informational purposes only. Links to other web sites are provided for reference and do not constitute a referral or endorsement by Pioneer or its affiliates. Please note that such material is not updated regularly and that some of the information may not be current. It is recommended that you consult with a financial professional for assistance regarding the information contained herein.